What is Work Breakdown Structure?
Essentially, WBS determines the "what" for the project. Everything you need to do in a project is shown in a simple and easy to understand map. The aim of this graph is to breaking down complex tasks into smaller and more functional components.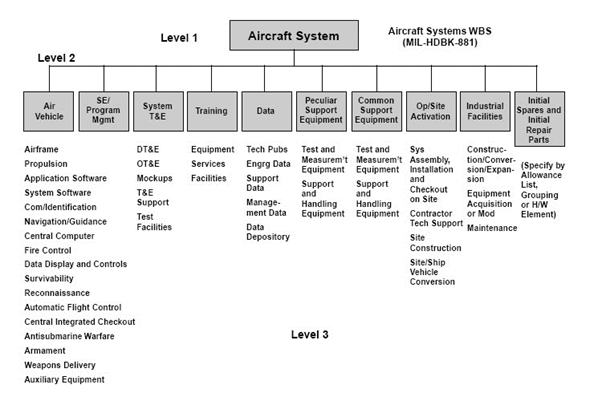 Image extracted from Systems Engineering Fundamentals. Defense Acquisition University Press, 2001
As shown above as an example, WBS breaks down all of these dynamic tasks into smaller and more strategic elements.
As a result, you could have one group responsible for the construction of an aircraft. Within this group, you could have one team focused on building an airframe, another on developing a propulsion system, and so on.
It's normal to have three levels of WBS decomposition. In the case of extremely complex ventures, you could have a fourth and even a fifth stage. However, three levels will be sufficient for most projects.
As you may find here, the WBS does not define any behavior or strategy. Alternatively, it only defines every object with a word that assumes it refers to main outcome of that object. This is one of the key features of the WBS as was described earlier: it defines the deliverables, not the tasks required to get there. Every object in the WBS must correspond to the end product regardless of being real or virtual. If your WBS doesn't have such a characteristic, then you do something wrong.
What characteristics should a Work Breakdown Structure has?
Not every breakdown of project deliverables may be listed as a WBS. In order to be called a work breakdown structure, it must have certain characteristics. In below we will review the main of these characteristics:
Result oriented: WBS will concentrate on the outcome of the project, rather than the tasks which required to get there. Each component should be represented by nouns, not verbs.
Hierarchy: the WBS is hierarchical in nature. Every level has a strict hierarchical relationship with the parent level. The sum of all sub elements is supposed to give you the parent element.
Mutually exclusive: all items at a specific level in the WBS must be mutually exclusive. There should be no overlap between deliverables or their work.
Benefits of Work Breakdown Structure
As it was discussed earlier, WBS is a result oriented overview that considers all the deliverables to make the project completely. Having a WBS provides many benefits that could be:
Transparency: Since all aspects of the WBS are mutually exclusive, this helps to create transparency. A group which is allocated to a single work are fully accountable for execution of that task. It eliminates overlaps in liability.
Project plan: the WBS is the cornerstone of the project schedule and budget. If you know all the required deliverables to complete the task, as well as their hierarchical relationship, it will be much easier to assign resources and set deadlines.
Reduces ambiguity: the WBS development process includes the project manager, the project team and all other stakeholders of the project. It facilitates discussion and allows those concerned to fulfill their duties. With a WBS, everyone has less confusion and a better idea of what they're going to do.
Commitment: The WBS offers the teams a very high level description of their duties. Since each team is responsible for a specific component at a time, this allows them to be more committed to completing their assigned tasks.
Indeed, having a WBS is the first step in the development of a detailed project schedule. It can be great that enable everyone to understand the scope of the project and its deliverables at different levels.
Creating a Work Breakdown Structure
Creating a WBS and its development process seems pretty simple at first glance: a short report with a list of deliverables.
However, to build such a structure, you need a thorough understanding of the scope of the project. This is the main skill that you will need to.
In below, we review how to create a WBS effectively:
Understanding the scope of the project. Before do anything you need to identify the scopes of project and its objectives.
Determining the major deliverables: Once you find out the scope of the project, then you should focus on the WBS development process by defining key deliverables.
Assigning the responsibilities among the team. It should be clarified enough that which task should be cooperated by whom.
If you provide such an outline for your WBS then you can be ensure that there is a good foundation for project planning and control during the project.